Our Products
Quartz Glass Crucibles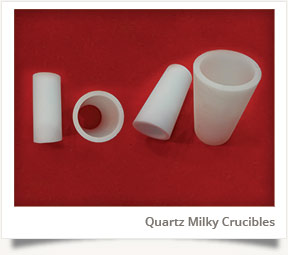 These are used in Semi Conductor industry to produce semi conductor wafer applications.
For Production of high Quality wafers, starting materials are added to a heating to high temperatures and take out as single crystal, Quartz Glass is a best suitable material that is having the high purity and high temperature properties required for this process.
It has the advantage as,


Advantages of high purity, high temperature resistance with big size, good thermal insulation, economization on energy, quality stability etc.

We also can produce various specifications of transparent and translucent crucibles

Semi conductor Industries

In the Semi conductor industry, a combination of high purity and excellent high temperature properties make fused Quartz tubing all ideal furnaces chamber for processing silica wafers. This material can withstand the wide temperature gradients and high heat rates of the process. It's high purity creates the low contamination environment required for achieving superior wafer yields.

Our clear fused Glass with large diameter are used by semi conductors industry for diffusion, oxidation and LPCVB processing.

Fiber Optic Tubing

Clear Quartz Glass used as a Deposition tubing in the process of producing optical wave guides, this process called as a modified chemical vapour deposition (MCVD) process. In Optical fiber industries for this application we supply high quantity Quartz tubing, this is air line free, with tight dimensional tolerance and low(OH). This combination of characteristic translate into excellent attention for the manufacturer.

Fiber optic tubing is produced by naturally or synthetic Quartz. We also supply high quality Quartz tubes with larger diameter and Quartz rods for furnace used in optical fiber industries.