Our Products
Elstein IOT Screw Heaters
IOT Series
Elstein IOT/75 and IOT/90 heaters are ceramic infrared dark heaters with E27 screw caps.
The standardised E27 thread allows easy and safe installation, as the heaters can be screwed in like bulbs into porcelain or metal sockets with porcelain insert.
Due to their simple connection, IOT/75 and IOT/90 infrared heaters are suitable both for individual operation and for configuring groups of heaters. They have diverse applications, in particular they range over terrariums/pets and livestock, breeding, medical and catering technology.
The power can be adjusted using a proprietary dimmer.
Elstein IOT/75 and IOT/90 heaters are available in two power levels of 60 W and 100 W or rather 150 W and 250 W.
Dimensions :
Technical Details :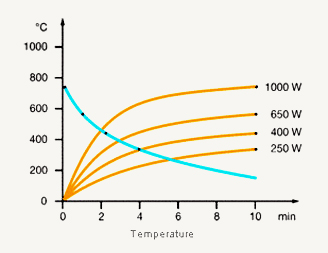 Type // Weight g // Wattage W
IOT/75
85
60
100
-
-
IOT/90
140
-
-
150
250
Surface rating
kW/m²
8,6
14,4
15,0
25,0
Typical operating temperature
°C
290
380
420
490
 Maximum permissible temperature
°C
530
530
530
530
 Wavelength range
µm
2 - 10
Further Information :
| Standard Design | Thermocouple Heater | Variants |
| --- | --- | --- |
| Betriebsspannung 230 V | options for power adjustment are mentioned below | special wattages |
| ceramic hollow casting | description T-IRS/K + length specification mm | special voltages |
| screw cap E27 |   |   |
Consideration :
The power can be adjusted by using proprietary power controllers or dimmers, as a conventional light bulb.
Porcelain sockets or metal sockets with porcelain inserts are to be used both for electrical and mechanical connection. The sockets must not contain any plastic components.
The national safety regulations must be complied with for the respective application, for example, the IEC or EN standard 60519-1, Safety in electrical heating installations.
Further information and safety instructions are mentioned in the mounting sheet, which is attached to each heater.