Our Products
Ceramic Infrared Heaters
(FSR Series)
Elstein Infrared Heaters are designed to produce maximum output in form of heat energy. They are constructed by a firmly burnt-in heating coil. The heater incorporates highly heatproof resistance wire that provides safety against any damage. We supply Custom Wattage Infrared Ceramic Heaters as per the requirement of our clients.
Longer service life is achieved since the resistance of the heaters is made to remain constant over the whole temperature range. The glaze used in this heater has excellent radiation properties therefore the radiation efficiency is also very high. This heater is available with Color Changing Feature as Yellow Ceramic IR Heater (CC FSR).
Our Ceramic Infrared Heaters are available in 3 standard models:
Full Length 245mm(FSR) 60mm 250 to 1000 W
Half Length 122mm (FSR/2) 60mm 125 to 500 W
Quarter Length 60mm (FSR/4) 60mm 60 to 250 W
Features:
The material used for the production do not oxidize therefore the surface always remains clean and do not wear out
As the coil is embedded in ceramic material, it can be installed in any possible position
Applications
In Thermoforming & Vacuum Forming Machines
In PVC Pipe Belling / Socketing Machines
In Hot Stamping Machines
As Heat Therapy Equipment
In Shrink Packaging
Technical Details :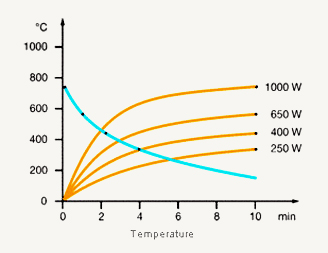 Type // Weight g // Wattage W
FSR
220
250
400
650
1000
FSR/2
125
125
200
325
500
FSR/4
75
60
100
200
250
Surface rating
kW/ m²
16,0
25,6
41,6
64,0
Typical operating temperature
°C
400
500
620
720
Maximum permissible temperature
°C
750
750
750
750
Wavelength range
µm
2 - 10
Further Information :
Standard Design
operating voltage 230 V
ceramic full-pour casting
leads 85 mm
Elstein standard socket
mounting set
Thermocouple Heater
integrated thermocouple type K (NiCr-Ni)
description T-FSR // T-FSR/2 // T-FSR/4
TC leads 100 mm
Variants
special wattages
special voltages
extended leads
power leads with ring terminals
Consideration :
The power can be controlled by using thermocouple heaters with TRD temperature controllers, TSE thyristor switching units and other accessories.
IR radiation panels can be assembled using REO reflectors, REF construction sets, EBI and EBF construction elements as well as mounting sheets MBO.
The national safety regulations must be complied with for the respective application, for example, the IEC or EN standard 60519-1, Safety in electrical heating installations.
Further information and safety instructions are mentioned in the mounting sheet, which is attached to each heater.